Happy Birthday Daddy! Daddy had his birthday week last week and we had a wonderful week!
Here is a recap!
Saturday, we were going to go to Rainforest Cafe, but my Mom stopped by and Tyler wanted to spend the night over her house with Poppy and Auntie too. So off they went and Tim and I kicked off the festive week. We went to Red Brick Station, had some crab dip and a couple beers...blueberry beer, yum. We saw a couple soldiers and talked to them, thanked them and bought them a round... of course I was teary. Incredible people. Then we walked to Kobe, had some sushi and another drink...and Tim got a special serenade from our server. Brian our sushi chef also joined in... you can see him in the background...
Then we thought about catching a movie, so on our way, we noticed a lady trying to fix a flat tire. Tim went over to help and ended up changing the tire.
We got to the movie and were just in time for Dark Knight, so we finally got to see a movie! We have not been together since before Ty was born. Can you believe that! haha
We left, stopped for another beer (water for me :) ) and headed home. We were so exhausted,
The next day we got TyTy, and Ty and I took Daddy to The Rainforest Cafe. We saw our friends Damon, Kelly and Avery. (I think they love RFC like we do cause it reminds us of Disney...haha) Of course we had to get the VOLCANO for Tim...everyone came and sang. Tim was surprised. Love the sparkler :)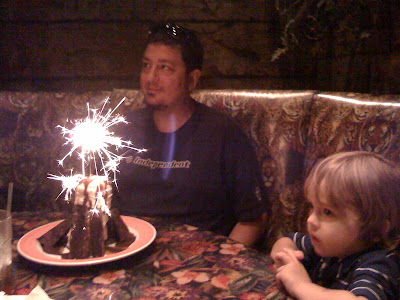 Tuesday was Tim's actual birthday. Tyler and I made him a special cake with a motorcycle one it. We had ramps and all. haha
Tim had to work, so we went to his work and had lunch with him at Della Roses...Ty wore a shirt that said "My Dad Rocks" and was very proud of it... very cute.
Ty and I headed home, cleaned and decorated, made Tim his favorite meal and a special dessert (besides the cake) Creme Brule... his favorite. I got the recipe from Disney World.
When Tim got home, he went to see his Dad. (Tyler was sick with a mild temp when we got home from Tim's work, so we stayed behind.) When Tim got back, we had finished decorating and he was surprised. We gave him his presents and had dinner. The special dessert?
Tim LOVED it and I was happy and relieved. haha I have never made creme brule before.. but I rocked it. haha
I think Tim/Daddy had a fantastic week!
Happy Birthday and thank you for being the best daddy, hubby, best friend ever. You are our hero!
Tyler and Mommy